Products -

820

Belt Drills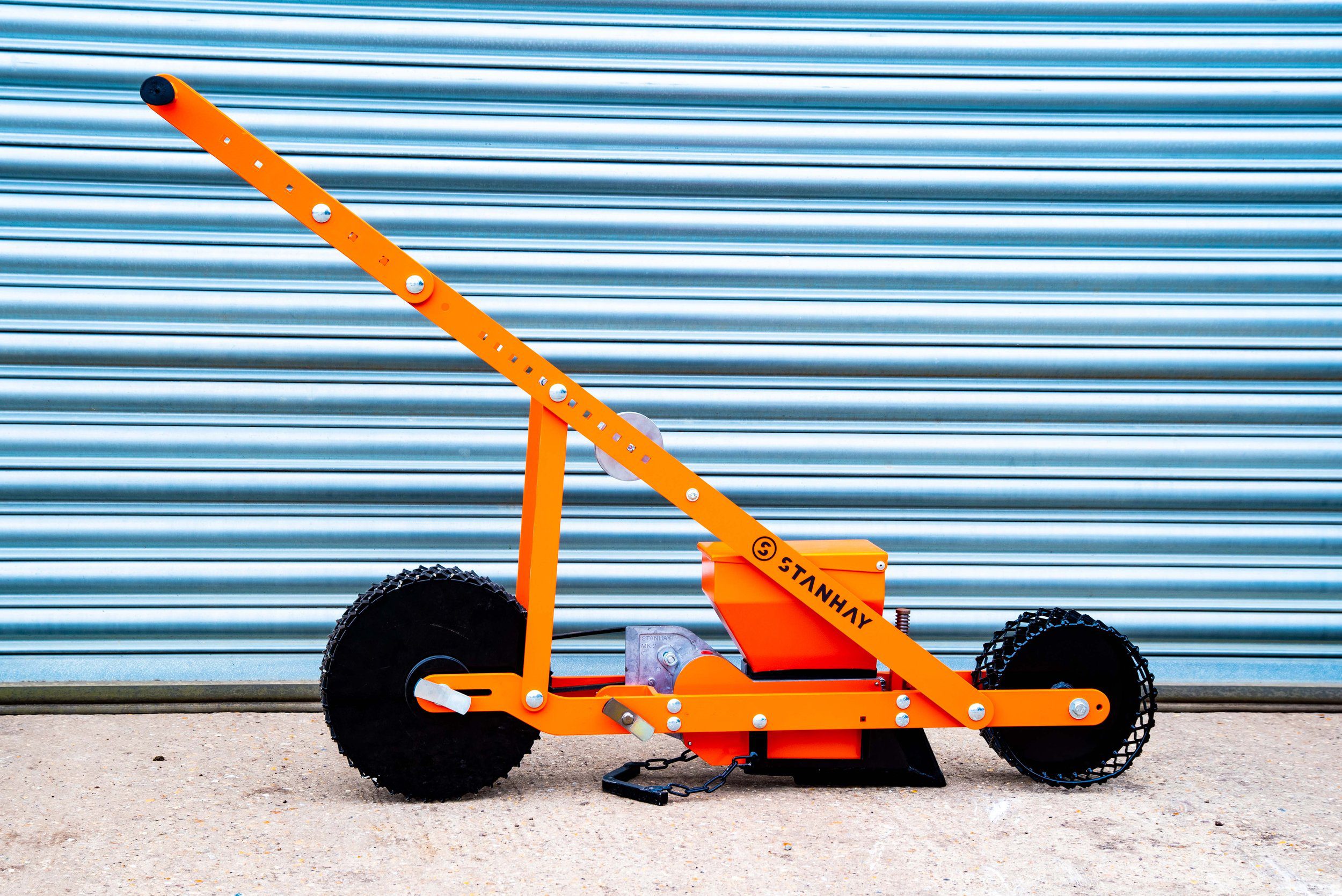 Redesigned in a lightweight aluminium frame for 2022. The highly versatile 820 Handpush is designed for planting small areas and quantities of seed at a time. The large diameter rear cage wheel and ergonomic handles makes it easy to push. The four speed pulley drive gives four seed spacings per seed belt.
DISCOVER THE FEATURES OF THE 820
Lightweight Aluminium design at only 26Kg total weight
4 speed pulley drive
5mm depth adjustment increments via coulter stem between 0-50mm
Driven by large diameter rear cage wheel
Adjustable height handlebars
4 litre seed hopper
Carrying Handle
Planting layouts
For the 820 MACHINE LAYOUT POSSIBILITIES & KEY LAYOUT TERMINOLOGY - PLEASE SEE PDF DOWNLOAD (BELOW)
THE METERING UNIT
The metering unit accurately places seed in the ground with the minimum of damage as every moving part is rubber covered. Seeds in the hopper fall past the choke A which regulates the quantity of seed in the chamber. The seed belt B is rotated clockwise by the drive wheel C while the repeller wheel D rotates anticlockwise to remove excess seed away from the holes in the belt only allowing the required amount to drop through at the end of the spring base E. The seed drop into the bottom of the furrow is only 25mm minimising bounce or roll of the seeds.
820 - Technical Specification
| | |
| --- | --- |
| Planter Type | Belt |
| Seed Type | NATURAL + PELLETED |
| Multiline Capacity | 1-3 Line |
| Hopper Capacity (L) | 4L |
| Min/Max Seed Size (mm) | 1-15mm |
| Min/Max Number of Rows per Machine | 1 |
| Minimum Row Spacing | N/A |
| Approx Row Unit Weight (kg) | 26kg |
| Depth Control Range | Incremental 5mm Steps |
| Coverer Options | Drag |
| Seed Press Wheels Available | NO |
| Row Unit Down Force Adjustment | NO |
| Drive System | Unit Rear Wheel |
| Landwheel Tyres | --- |
| PTO Fan | --- |
| Linkage Category | None |
FURTHER INFORMATION ON OUR 820 CAN BE FOUND IN OUR PRODUCT GUIDE BELOW